Why are you participating?
1. Market positioning China is the world's largest automobile production and sales country. AUTO TECH gathers technology innovation based on China's automobile preloading market
2. Quality audience More than 20,000 visitors come from automobile main engine factories, automobile research institutes and first-class auto parts suppliers. 80% of the visitors are corporate decision-makers
3. Innovation mode The exhibition is divided into six special exhibitions, 30,000 exhibition area, distinct theme, obvious zoning, convenient for exhibitors and visitors to negotiate business, save communication costs
4. Take a pulse on industry trends The theme of the exhibition is in line with the trend of lightweight, electrification and intelligent automobile development
5. High-level contemporaneous meetings More than 20 professional automotive technology conferences, bringing together industry experts, in-depth understanding of the market and technology
6. Value-added services 200+ domestic and foreign industry media in-depth promotion, industrial chain comprehensive integration, broaden the field of enterprise cooperation, achieve brand diversification and expansion
Who will visit? !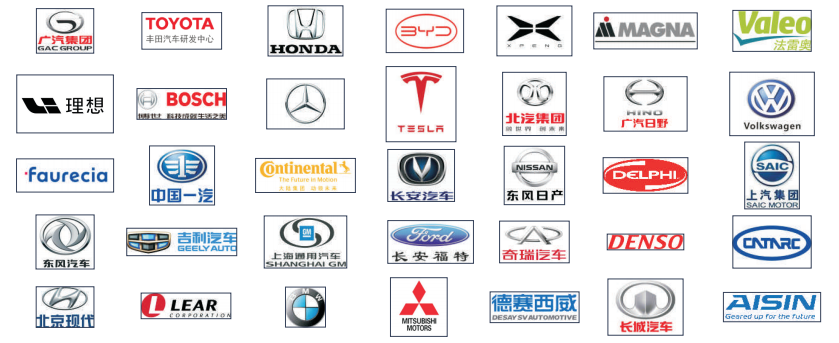 Concurrent - within reach of 50,000 industry buyers
AUTO TECH 2022 Guangzhou International Automotive Manufacturing Technology & Equipment Expo
2022 AUTO TECH China (Guangzhou) Automotive Parts & Processing Technology Expo 2022
2021 Premium audience sampling
Gac test certification institute, director of engineer, gac Emmanuel AnXin energy automobile co., LTD technology center intelligent snatched, director, dongfeng nissan passenger vehicle company service support purchase department minister, chongqing changan automobile co., LTD., purchasing department minister, guangzhou Honda automobile research and development co., LTD., general manager room, executive vice general manager, Evergrande automobile research institute chief engineer, the gac Fiat, Chrysler car co., LTD., guangzhou branch of supply chain management department leader, Daimler greater China investment co., LTD., chongqing changan new energy vehicle development durability test engineer auto technology co., LTD. Of intelligent bridge system engineer, guangzhou philco car audio co., LTD., director of research and development, guangzhou autoliv vehicle safety systems co., LTD., general manager of Ethiopia ZongTiBu di auto industry co., LTD., senior director, he can be automatic transmission (guangzhou) co., LTD. Procurement director, zhejiang wind power co., LTD. Technology vice President, faw - Volkswagen intelligent technology development co., LTD foshan branch made head, guangzhou nansha denso co., LTD purchasing department minister, Toyota textile (China) co., LTD., guangzhou branch sales department manager Dongfeng motor group co., LTD. Technology center of car body, director of engineer, director of shenzhen skyworth automobile intelligent co., LTD. Products, byd auto industry co., LTD., di, guangzhou research institute of science and technology manager - intelligent snatched automotive innovation center co., LTD, guangdong province, research department minister, dongfeng liuzhou automobile co., LTD. Technology center, deputy director of the gac variable box passenger vehicle co., LTD Technical quality supervisor, gac fick automobile co., LTD., an assistant to the general manager and director of the center, Great Wall motor co., LTD., the functional test engineers, treasure is the director of automotive guangzhou institute of electronics rinou senior manager, guangzhou auto parts co., LTD. Technology center of mechanical and electronic department section chief Abby thought trade co., LTD., guangzhou department technical support, byd auto industry co., LTD Department of automotive engineering research institute, senior manager, dongfeng nissan passenger vehicle company parts purchasing director xiao peng automobile technology co., LTD., guangzhou automobile electronic system integration experts, valeo automobile comfort and auxiliary driving system division director, byd auto industry co., LTD., di technology research institute manager, BMW China supplier quality management, senior manager, gac hino automotive co., LTD Company's new product chamber section chief, geely automobile research institute body and exteriors development department minister, Honda auto parts manufacturing co., LTD. Sensitive real long manufacturing factory, guangzhou auto parts co., LTD., general manager, the modern automobile r&d center (China) co., LTD. Electronic development for engineers, guangzhou Toyota motor co., LTD. Engineering department section chief, liuzhou sheng technology co., LTD. Technical route Strategic investment manager, millet, director of the center for science and technology company, foxconn technology group global passive components purchasing manager, ideal car purchasing project manager, Marilyn automotive electronics (guangzhou) co., LTD., huawei technologies co., LTD., the project manager, purchasing managers matsushita electric (China) co., LTD. Of global sourcing manager, alibaba car strategic cooperation project manager, geely group - collar Deputy General Manager of Shandong Intelligent Connected Vehicle Collaborative Innovation Center; Procurement manager of Electronic and Electrical Department of Chery Jaguar Land Rover Co., LTD.; Head of Body Development Department of FAW R&D Institute; Procurement Director of GAC Passenger Car; Chief Technology Officer of JMC